On selected opening days, a museum bus runs from and to Borup Station.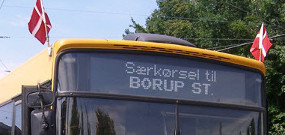 A return ticket costs adults DKK 30 and for children DKK 15.
Note: Travel cards, Movia tickets and DSB cards and tickets cannot be used for the bus.
On departure from the museum, the bus stops at Skjoldenæsvej next to the driveway to the museum's car park. See picture. You have to take the tram from the museum's forecourt down to the car park.
Here the bus stops at the departure back to Borup Station
Be aware of the possibility of using the bus around Valsølille Lake on the way home together with line 240 towards Roskilde St.
Timetable
We reserve the right to make changes. Check the Itinerary.