The Tramway Museum Skjoldenæsholm is a living museum and a museum with live traffic. You will experience public transportation as it took off in the late 1800s and into the 1900s.
We exhibit live trams from the 3 danish tramway cities Copenhagen, Odense and Aarhus og from a series of cities in Europe. Even a tram from Melbourne, Australia is on display and many days also in traffic.
In the depots there are posters and exhibitions about the tramway operation. We are also exhibiting a mock-up of a light rail car from the upcoming light rail along Ring 3 in Copenhagen from Lundtofte to Ishøj. In connection with the mock-up, there is an exhibition about light rail.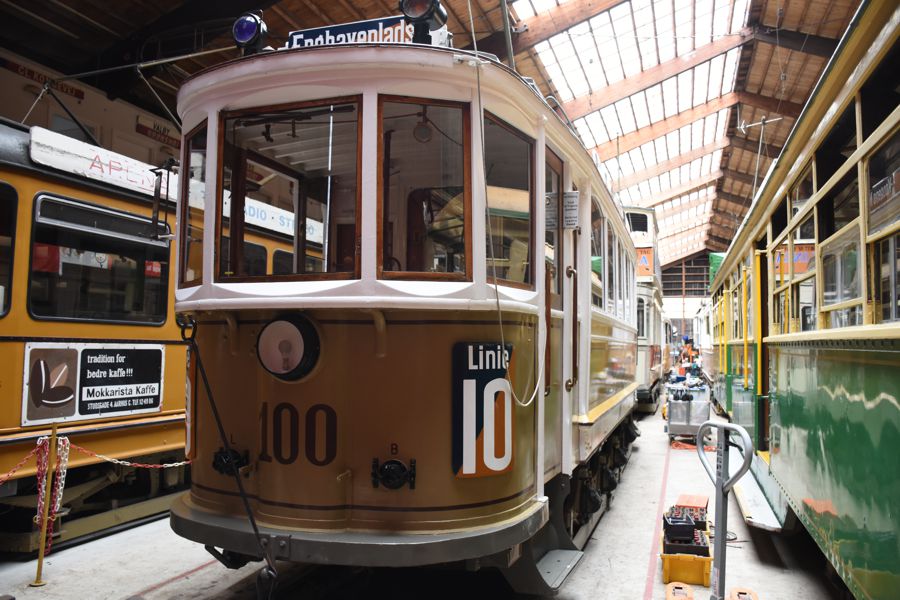 KS 100, ready for action, in the depot
The trams usually run every 10 minutes and once the entrance fee is paid, it is free to ride the electric trams all day. The trip goes through the museum and out into the woods to the terminus Eilers Eg where the café cart is located and you can eat purchased or brought food.
On selected days you can ride a horse-drawn tram (nicknamed "Hønen" aka. "The Hen") from 1876 and a horse omnibus from 1897 (for a fee).
In the bus exhibition hall, approx. 30 buses which illustrate the development in bus operation over the last approx. 140 years are on display. On many opening days, you can take a ride on one of the museum's veteran buses around Lake Valsølille and enjoy the beautiful Zealand landscape (for a fee).
On certain days there is a ride with a veteran bus from Borup Station to the museum and back (see Travel Planner).
On most opening days, free guided tours are arranged at the museum where you get behind the barricades and, among other things. can see the workshop and the trams that are under restoration or awaiting restoration.
The Tramway Museum Skjoldenæsholm is run on a voluntary and unpaid basis by members of The Tramway Historical Society.
The Tramway Historical Society was founded on February 8th, 1965 and is an association that, on an idealistic, apolitical basis, seeks to spread the knowledge and interest in public transport.
You may read more about the many activities of the society
here
.
Our channel on YouTube contains a large selection of videos about trams and public transportation: